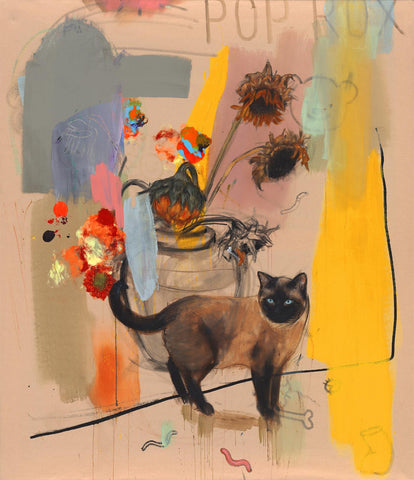 Ally McIntyre
After graduating in Painting and Sculpture from University of Alberta in 2013, Ally McIntyre completed the MA Fine Art course at the prestigious Goldsmiths University of London, where she was awarded the Jealous Prize 2014/2015 and HIX Award 2015. Her solo exhibitions at Jealous 'Moondazed' in 2015, 'Dog Days' in 2016, 'Decaf Honey' in 2017 all of which proved sell-out successes with artworks placed in private collections around the world. Most recently, Ally was a finalist for the 20th anniversary Royal Bank of Canada (RBC) Painting Competition in Canada.

Ally McIntyre's work rebels against the constraints the art canon has imposed on painting. She reinvents her subjects through large dimensions, bright colours and an unconventional pairing of mixed media and styles. Bold and assertive, her work stands up to the prevalent association of large-scale art with the male artist. Confident brush strokes envelop glimpses of realism and dissolve faces into playful combinations of dream-like colour, line and glitter. Ally's work is an amalgamation of various genres across history; faux-naive, realism, kitsch, expressionism, and cartoon. The subject and narrative of her work often has to do with the structure of hierarchy in culture, art, human-animal relations, and somehow circumventing or looking at it in a new way, that can place importance on a subject that may otherwise not be considered honourable or iconic.
Her work is placed in many public and private collections including the Victoria & Albert Museum Permanent Print Collection, where her Jealous Prize winning screenprint 'Ferdinand' joins the growing archive of Jealous Prize winner's prints.