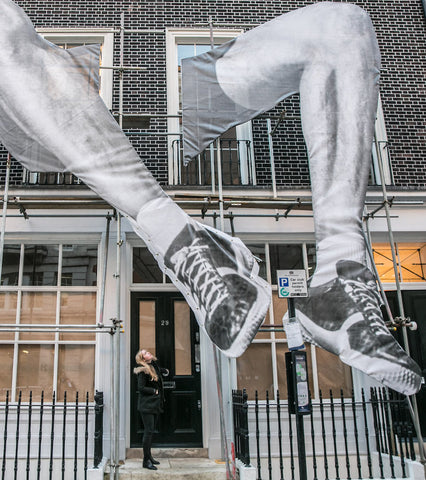 J.R.
JR is one of the biggest sensations of the street art scene. He began his career as a teenage graffiti artist who was by his own admission not interested in changing the world, but in making his mark on public space and society. His graffiti efforts often targeted precarious places like rooftops and subway trains, and he enjoyed the adventure of going to and painting in these spaces. After finding a camera in the Paris Metro JR and his friends began to document the act of his graffiti painting. At the age of 17, he began applying photocopies of these photographs to outdoor walls, creating illegal 'sidewalk gallery exhibitions'
JR calls himself an "urban artivist" and remains anonymous. He does not frame his huge portraits, he leaves a space for an encounter between a subject/protagonist and a passerby/interpreter, and this is the essence of his work.
On 20 October 2010, JR won the TED Prize for 2011. He used the $100,000 award money to start the Inside Out Project, a global art initiative that has allowed thousands of people around the world to speak to their communities through portraits pasted in public space. This prize brought him and his work to New York City where he opened another studio, and inspired pastings in the area such as those done in 2011 of members of the Lakota Native American Tribe from North Dakota.
In 2013, he continued working in New York City, with the Inside Out Project in Times Square, which challenged advertising with a massive work of art consisting of thousands of portraits of locals and tourists.
In 2015, he directed the short movie ELLIS, starring Robert De Niro. The movie, set in the abandoned Ellis Island Hospital complex and using JR's UNFRAMED art installations, tells the forgotten story of the immigrants who built America.
This info is from Wikipedia, for his full story visit his Wiki page.
Bio image from fadmagazine.