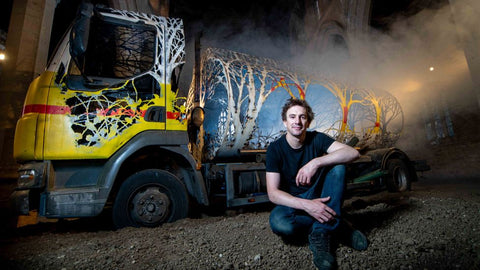 Dan Rawlings
Dan Rawlings is a contemporary British artist born in Watford, he grew up in Essex and currently lives and works in Gloucestershire.
A sympathy for unloved and forgotten relics and a fascination with nature's resilience have inspired him to create visions of a world where man's impact is being slowly reclaimed by nature. Dan considers no technique or substrate out of bounds in achieving his intended results but is probably best known for his manipulation of metal and light, conceived with intricate hand-plasma cutting.
Notable recent projects include: Future Returns, a plasma-cut oil tanker housed inside a 19th century church in Lincolnshire's 20-21 Art centre, and Short Haul, an elaborately hand cut light aircraft shown at the Urban Nation Museum in Berlin during the 2019 Biennale.
His work has been exhibited at venues in London, Paris and Los Angeles, as well as at the legendary Glastonbury music festival, Saatchi Gallery and The Chelsea Flower Show. His signature works cut from vintage tools and signage can be found in collections around the world