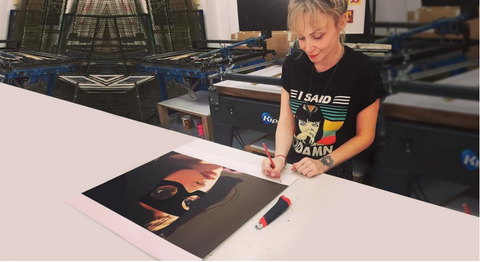 Zoe Moss
Since receiving a BA Hons in Fine Art from the University of Central Lancashire,
Zoe Moss has exhibited in shows such as the Royal Academy Summer Exhibition,
Cork Street Gallery and the National Open Art Competition amongst others.

Moss' broad subjects and works have gained a national collector following and
alongside many sold out print editions have also won her professional accolades
including her shortlisting for many exhibitions, including the BP Portrait Prize and
John Moores Painting Prize.

As a published artist Zoe has featured in publications such as 'Who's Who in Art'
and recently released her own children's book, available at bookstores across the
UK, and is now working on her third solo show.

Moss is predominantly a photo-realist oil painter, inspired by details and the
concept of paint versus photography. She feels spending so long on a piece allows
the artist to study their relationship with the subject.

In recent years, Zoe has been visiting Comic Cons whilst producing her well known
works based around superheroes and famous icons, each with an inimitable
humorous narrative in the artist's own style.

Zoe Moss lives and works in London.